Coucou tout le monde !

Hi everybody !
Comment allez-vous aujourd'hui mes chatons ? Prêt pour la séleciton de la semane ? C'est parti !
How are you my little birds ? Welcome for my Selection of the week !
n°1.
http://ledressingdeleeloo.blogspot.se/
On commence cette semaine avec cet adorable petit look, mi-fillette mi-garçonnet. J'adore le côté Lolita/collégienne cool de cet ensemble avec le tutu rose pale. Inutile de vous rappeler ma passion dévorante pour les sneakers, ici c'est un point en plus pour Leeloo.
We start our selection with this lovely girly-boyish look. I like it a lot because it has that Lolita/hype schoolgirl vibe on it with that pale tutu skirt.
n°2.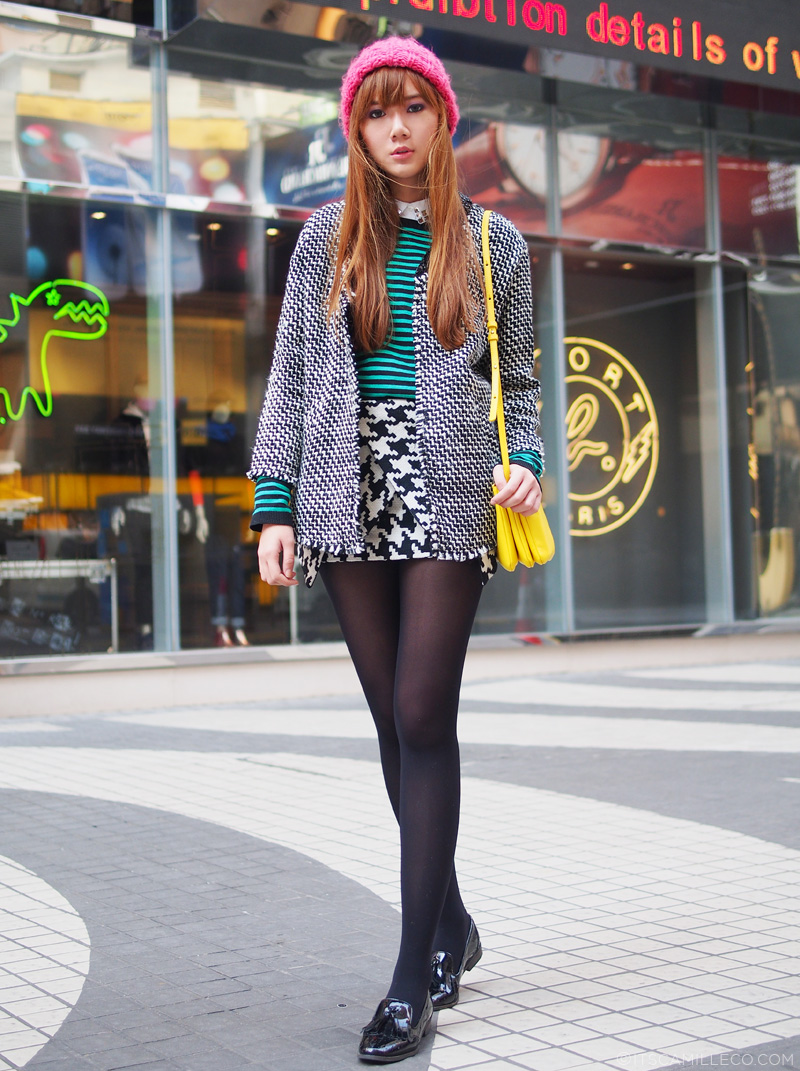 http://itscamilleco.com/
Un mix d'imprimé comme je les aime ! Avec des couleurs fluo-pop c'est encore plus courageux et encore mieux.
One good mix of prints from Camille this week, just the way I like it. It's even better and bolder with fluo-pop colors.
n°3.
http://www.adenorah.com/
Tout me plait sur la tenue de notre petite frenchie. Le manteau oversize (je ne sais pas vous, mais je le trouve encore plus cool avec des carreaux), les bottes hautes Givenchy et le pull avec un imprimé ridi-cool.
I like everything on our frenchie's outfit: the oversized Isabel Marant-like coat (is it just me or it's even cooler with that print?), the high-knee Givenchys and the "ridi-cool" printed pull over. Love it.
n°4.
http://www.bonsbaisersdailleurs.com/
Céline signe un look très chic cette semaine avec son blazer blanc et son mini short en tweed. On note et on approuve la petite touche de couleur au niveau des chaussures et la subtile insertion d'une it-tendance dans son look : le péplum, discret et joli.
Céline has a very chic outfit this look with her white blazer and her mini tweeded shorts. Love the red touch on her shoes and the subtle peplum on her shirt : it's discrete and pretty and well, let's say it, amazing. Well done.
n°5.
http://5inchandup.blogspot.se/
Je ne dirai qu'une chose : SUIT UP !
I'll only say one thing : SUIT UP ! :) And also, I love those brown wood shoes, it all looks great together !
n°6.
http://www.leblogdebetty.com/
Sans hésitation mon préféré de le semaine !
Without any doubt, my favorite of the week ! I can't even say why I just love that outfit, most certainly because it's the kind of outfit I would love to come out with myself.
Qui est votre favorie cette semaine ?

So, who's your favorite ?
Pour les sélections précédentes/For the previous selections :
here
or
there
!

+++ Eli